Aylesbury Theatre
The magnificent Aylesbury Waterside Theatre is a £47 million theatre in Aylesbury, Buckinghamsire. What you can expect is West End musicals, touring musicals, plays, opera, ballet, dance, comedy, children's shows and of course Christmas pantomines.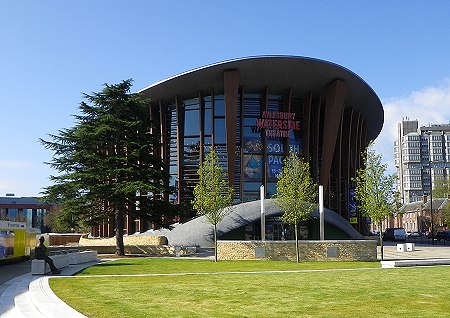 It all began in 2003 with well thought out plans for a replacement to the Civic Centre Theatre. And 7 years later the theatre opened, on 12th October 2010 by none other than Cilla Black. It was an open air event hosted by Jonathan Wilkes and Suzanne Shaw with guests  David Suchet, Simon Callow, Ruby Wax, Susan Hampshire and Richard O'Brien. Eric Idle sent a pre-recorded message.
An incredibly beautiful venue, both externally and internally, the acoustics are part of this beauty.  The venue uses the 'Carmen electroacoustic enhancement system" which is allows for adjustments to bass for reverb customisations for symphonies and choral performances. The venue itself is a architectural landmark internationally.
Aylesbury Waterside Theatre
A total of 1,200 people can sit in the auditorium to enjoy shows at the theatre. The theatre contains three main levels showcasing:
Musicals
Plays
Opera
Ballet
The theatre draws in tourists from across the UK, and every season brings about a new brochure of vibrant shows in a one-of-a-kind venue.
The venue is on Exchange Street, and getting to the venue is easy:
Train: Aylesbury is linked to London via the Chiltern Rail Service. The rail leaves guests just five minutes from the theatre by foot.
Bus: The main bus station in Aylesbury is a mere 200 meters from the venue.
Auto: Drive to the theater, with 1600 parking spaces nearby. These spots are within easy walking distance from the theatre.
Guests can also walk to the theatre from nearby hotels and restaurants.
The theatre marks the town's regeneration. The theatre attracts international interest with a dynamic and diverse programme. Children's shows are available, too, with a fun, family-friendly atmosphere.
Aside from shows, the theatre offers numerous opportunities, including:
Conferences and Meetings: Theatre hire allows organizations and groups to hold successful events at the theatre. A fully trained staff helps all hires ensure that their event goes smoothly. Weddings, birthdays, conferences, meetings and gala events can be held at the theatre – and much more.
Live Screenings: Live screenings allow for groups to attend screenings, with powerful acoustics, disability-friendly features and a large screen to bring the show to life.
Workshops and Art Exhibits: The theatre works to provide a fun and engaging experience for young people and adults. The theatre works with schools, directors and groups to offer:

Theatre clubs
Family theatre clubs
Disability Access
Disabled guests will find that the Waterside Theatre offers:
8 wheelchair seats
Companion seats
Sound amplification systems
Service dog friendly
Accessible toilets are located on all seating levels to allow for a fear-free environment for guests. The venue is open to answer any questions guests may have to ensure that all guests have a fun, worry-free time when visiting the theatre.
Waterside Café
The Waterside Café is open. The café allows guests to eat and laugh while waiting for their show to begin, or guests can eat after earlier shows. The café offers:
Locally sourced ingredients
Food and drinks
Freshly made food
A children's selection is available, while adults can enjoy savory treats, such as sandwiches and bagels to breakfast baps and jacket potatoes. Cakes, ice creams and other sinful desserts can be purchased at the café.
Guests deserve a treat after a night of fun at the venue.
Drinks include:
Water
Soda
Beer
Wine
Ciders
Coffees
The theatre has its own Waterside Ale, which is provided by the Chilterns Brewery.
Free Wi-Fi is available for all guests to enjoy business meetings.
Ambassador Package
Guests that want to enjoy the show in true luxury can choose the ambassador package. This is a tiered package plan that includes:
Green – a drink at the bar
Blue – a drink at the bar, variety box or crisps, water, Dormen coated raisins and ice cream. A house programme is provided, too.
Yellow: A box of homemade Belgium chocolates is provided with a half bottle of Perrier Jouet champagne.
Red – Ambassador lounge entry, a glass of prosecco and savory snacks, or an activity pack, innocent bubbles and sweet treats.
Purple – Ambassador lounge entry, a half bottle of Perrier Jouet champagne, homemade Belgian chocolates and a house programme (or gift).
Prices for the Ambassador Experience Package range from £5 – £45, depending on the tier chosen.
The theatre's 2017 schedule is filled with colorful shows, subject to change, which include:
Stage Left
Stage Right
Centre Stage
High School Musical
Gaslight
The Twits
Anton & Erin
Amadeus
Swan Lake
The Tempest
Stand By Me
The Curious Incident of the Dog in the Night Time
Comedy Club
The Illegal Eagles
Dreamboats and Petticoats
And this is just the schedule through February. The venue is filled with new shows every month from across the world.
The management is Ambassador Theatre Group, a well known theatre management group in the UK.
You can find the address here, get contact details here and take a look at the seating plan here.